Pvt 2 Richard Lee Adams

Korean era
United States Army
SP4 Richard P. Allison

628th Maintenance Bn 149th Main Co - Vietnam
United States Army
TEC4 Anthony Samuel Amedeo

Medical technician 409 WWII
United States Army
Sgt Dominic Amedeo

710th Tank Battalion - WWII
United States Army
LT George A. Arner

Third Chemical Battalion - WWII
United States Army
E6 Ray C Bailey

Co C, 137th Tank Bn, 37th Inf Div - WWII
United States Army
Cpl Robert Clyde Barnhart

42nd Air Supply Squadron - WWII - Ansbach, Germany
United States Army Air Force
PFC Robert Mack Burch

Fighting 69th Infantry WWII
United States Army
T5 John R Burda

771st Tank Destroyer Battallion WWII
United States Army
SGT Carl A Burligar

25th Infantry Division - Vietnam Conflict
United States Army
SGT James F. Byers

Co C, 389th Military Police, Central Europe Rhineland - WWII
United States Army
Sgt John Herbert Caler

Tank Crewman - Korean War - Battle of Pork Chop Hill
United States Army
Cpl Donald Lee Carpenter

Prison Guard Kogi Island - Korean Conflict
United States Army
Sgt Carl Howard Carpenter

WWII - MP in Africa
United States Army
Sgt Roy C. Cashdollar

8th Air Force 453rd BG - WWII
United States Army Air Force
CPL (T) Louis S. Cavallaro

559th Medical Ambulance Co. - Korean Conflict
United States Army
1st Lt Clyde Donald Chaney

494th Squadron 344th Bomb Group - WWII
United States Army Air Corps
CPL Charles H. Chenoweth

28th Infantry Division, 112th Infantry Regiment - WWII - Germany
United States Army
TEC5 Eugene J. Cheuvront

Co C 7th inf 3rd div. WWII
United States Army
T/Sgt Ray L. Collins

47th Fighter Squadron - P-38, Armorer - WWII
United States Army Air Forces
T/Sgt Ray Collins

47th Fighter Squadron - Armorer for P-38s - WWII
United States Army Air Force
PFC Rodney Ray Collins

4th Infantry Division 3rd Battalion B Company 3/8
United States Army
SGT Marion F. Congo

Btry B 274th Arms FA/BN - WWII
United States Army
Cpl Paul Conkle

Co A, 251st Combat Engineers - WWII
United States Army
Sgt Richard J. Conkle

B Company, 11th Engineer Battalion - Korean War
United States Army
SP4 Paul Conkle

183rd USASA Company - Germany
United States Army
PVT Otho H. Cook

Co. B 163rd infantry WWI France
United States Army
Cpl James D. Cooper

Battery D 754 AAA Gun Battalion - WWII - Pearl Harbor
United States Army
PFC George Cowey

549th AAA Missile Battalion
United States Army
Spec/4 Rex Cowey

504th AVN Co (AD)
United States Army
Pfc David Lee Cowey

523rd GM Co - Fort Lee, VA - Peacetime
United States Army
SP4 Lawrence (Joe) Crummitt

4th Division 197th Infantry Vietnam
United States Army
Cpl Eugene Cullifer

Co A 508th MP BN - Germany - Korean War
United States Army
E-4 Robert W. Davis

317th Combat Engineer Unit - Vietnam era
United States Army
Sgt Marcus Dawson

153rd Depot Brigade - WWI
United States Army
SFC Lanny DeBee

Co C 365th Engineer BN 79th ARCOM - Korean War
United States Army Air Force
PVT Earl A. Dennis

Salvage Technician - WWII - Battle of the Bulge
United States Army
SGT Patrick Kenny Duffield III

Southwest Asia - Kuwait
United States Army
Tec 4 Allen S. Fields Jr

Med Det 148 Inf Reg 37th Division - WWII
United States Army
Col James E. Fox

463rd Engineer Battallion, 1st US Army
United States Army
PFC Charles E. French

CO D 344TH ENGR REGT (GS) - WWII
United States Army
PVT Robert E. Fryer

Co G, 26th Infantry Regiment - WWII
United States Army
Sgt George R. Gamerdinger

80th Inf 3rd Army - WWII - ETO
United States Army
SP4 Robert L. Gessford

HQ Co - Korea (1953) - Berlin Crisis
United States Army
T/Sgt Raymond R. Gibbs

4600th Service Command Unit Det 4 - WWII
United States Army
Cpl George G. Gibson

354 MP Company - Korean War era
United States Army
SPC Lucas Goodlin

5th Battalion 25th Field Artillery Operation Resolute Support
United States Army
SP4 Raleigh J (Skip) Hampson

5th Army - Vietnam
United States Army
SP5 Jerry Handley

vietnam 36th engr bn
United States Army
Tech 5 Bobby J. Haught

128th ITB, 75th ITR & 4th Ordnance Medium Maintenance Co. - Korea
United States Army
E-4 Roger l. Hayes

809th Engr Co.- USARSEVEN
United States Army
Tec 5 Irvin G. Highfield

714th Medical Hospital - WWII - Pacific Theater
United States Army
Cpl Dale E. Highfield

Co B, 269th Engineering BN - WWII - European Theater
United States Army
Cpl Alvin H. (Bud) Hillyard

Counterintelligence Corps - WWII
United States Army
Cpl Donald M. Hood

481st Air Service Group 9th Airforce - WWII
United States Army
PVT John `Corky` Jennings

KIA March 16, 1962 Vietnam
United States Army
Pvt William E. John

101st Airborne Division - Korean War
United States Army
Pfc Alton L. Johnson

87th Infantry Division ('Golden Acorn') - WWII - Battle of the Bulge
United States Army
TEC 4 James Orville Johnson

204th Ordnance Maintenance Co. - WWII
United States Army Air Force
SPC John P. Jordan

82nd Airborne 2/504 PIR
United States Army
TEC5 Walter R. Juszczak

276th Infantry, 759th Tank Battallion - WWII - European Theatre
United States Army
E-6 Walter Robert Juszczak

Vietnam 101st Airborne Division Operation ripcords ranger
United States Army
PFC Harold C. Kircschler

WWII
United States Army
PFC Lester A. Kirschler

76th Field Artillery/Cavalry - WWI
United States Army
SSG Bennie Lamp

2/7th Cav, 1st Cav Div - Vietnam
United States Army
SP4 Harry Lang

Vietnam War - 442nd Transportation Company
United States Army
TEC 4 Anthony `Buddy` LaScola

WWII - Asiatic-Pacific Theater
United States Army
Pfc James A. Lascola

7th Armored Division - WWII
United States Army
T/5 Charles R. Laughlin

Destroyer Battalion - WWII
United States Army
PFC Tony Ludovici

POW at Stalag IVB Held for approximately 214 days 1943-1945
United States Army
Cpl Hayward E. Maple

80th Division, HQ Co, 317th Inf Regt - WWII
United States Army
Pvt Fred Lawrence Martin

WWI - Europe/France (1917 - 1919)
United States Army
Tec 5 Robert L. Mayes

902nd Heavy Auto Maintenance Co. - World War II - European Theater
United States Army
Pvt. Raymond R. McCauley

Battery D., 12th. Field Artillary
United States Army
Pvt Burhl Kenneth McCauley

20th Infantry - WWII
United States Army
Spec 4 Robert E. McDevitt

Co. A 311th Infantry Regt. 78th Div - WWII
United States Army
M/Sgt Richard McGeehan

WWII/Korea Baker Division
United States Army
CPL. H. Dean McKinney

First InfantryDivision
United States Army
Tech 5 John A. Merriman

WWII 1943-1946
United States Army
TEC 5 Paul A. Milby

Normandy, Northern France, Rhineland, Central Europe
United States Army
SPC-4 Ronald C. Miller

Co. E, 2nd BN, 506th Infantry, 101st Airborne - Vietnam
United States Army
E-5 Wayne C. Mineard

A Btry, 2/2 ADA - Cold War Era - Germany
United States Army
MSG William Earl Mountjoy

57th Bombwing 340th Bomb Group - WWII - North Africa Corsica Italy
United States Army Air Corps
Sgt Jim Murray

11th Armored Cavalry - 5th Infantry Division - Vietnam
United States Army
Pfc Bruce A. Myers

14th Armored Cavalry - Vietnam Era
United States Army
E-5 Paul M. Nelson

5th Special Forces (green beret) - Vietnam
United States Army
Sgt Clarence W Nesselroad

WWII Hq Co-1st battalion 393rd infantry
United States Army
E4 James Newlun

Vietnam 516 Signal Cor Germany
United States Army
PFC Richard Edward Owen

Infantry - WWII
United States Army
E4 Zach Powell

1092nd Engineer Battalion C Co - OIF
United States Army
E-5 Sgt William E. Scarry

Co C 354th Engineering CONST battallion Camp Pickett VA WWII and Korean War
United States Army
Cpl William H. Schladen

Company D 742nd Military Police Battalion/ New Guinea
United States Army
T4 Harold L Sharp

Btry C 274 AFA BN WWII
United States Army
Sgt Jack P. Shepherd

A Btry 3rd BN 9th Arty 5th USARMY - Vietnam War
United States Army
S/Sgt Guy B. Shilling

2529th AAF Base Unit WWII Europe
United States Army Air Corps
Major Thomas A. Simcox

Vietnam 5th special forces group
United States Army
PVT Norman Six

11th Airborne Support Group
United States Army
E-5 Dennis S. Smith

Eighth Army - Vietnam War
United States Army
Sgt Philip A. Smith

HHC 1st Infantry Bde 5th Infantry - Vietnam
United States Army
Sgt John Patrick Smusz

Co. F 329th Infantry Regt - WWII
United States Army
Pfc Wallace A. Sprout

Battery B 253rd Armored Field Artillery Battalion - WWII
United States Army
Sgt John Ed Starr

330th Infantry Bn - WWII - European Theatre
United States Army
Cpl Robert D. Swartzmiller

Korean War HV MTR Co 32-D infantry
United States Army
SP5 Robert Michael Temple

181st Transportation Bn 41st Transportation Co - Vietnam
United States Army
Sgt Al Temple

89th Infantry Div - WWII - Battle of the Bulge, Ardennes, Rhineland Central Europe
United States Army
Don Van Dyke

WWII
United States Army
Corporal Harold W. Waide

New Guinea Combat Infantryman Badge 11 Jul 44 Marksman Rifleman 745
United States Army
E5 Thomas R. Ward

62nd Eng BN (lc) USAR PAC - Vietnam
United States Army
PFC William L. Wedgwood

Rifleman - Airborne - WWII
United States Army
Tec 5 Arthur C. Wharton

HQ Co., 90th Chemical Mortar Battalion - WWII - Rhineland Central Europe
United States Army
TEC5 Walter D White

Ground Aircraft Observer WWII European Theater of Operations
United States Army
PFC Kenneth R. Williams

Co. D, 14th Tank Battalion - Normandy - WWII
United States Army
Cpl Herman F. Wilson

909th Quartermaster Co WWII Europe
United States Army
E-5 Robert Carlton Wilson

Vietnam Co A 519th MI Bn
United States Army
E-4 James K. Wilson

III Corps - Vietnam Conflict
United States Army
SP4 Denzel Wilson

NATO - Middle East
United States Army
PV2 Robert J. Wilson

2nd Bn 5th Cav Rear Det FC
United States Army
Tech 5 Frederick E. Winters

Battery F 67th Coast Artillery WWII
United States Army
SGT John P Woodruff

705 MP BN Desert Storm
United States Army
PFC James F. Woods

82nd Airborne Engineer Group - WWII - Holland
United States Army
Pfc Norval Wilson Woofter

Company C, 18th Infantry Regiment - WWII and Korean War
United States Army
Cpl Ronald Max Wright

HQ Battery 552nd AAA Bn - Korean War - Germany
United States Army
SSG Lawrence A. Wright

Korean Conflict
United States Army
SP4 William H. Wright

590th Maint Co, 5th LEM Co. - Vietnam
United States Army
E-6 Adam Yeater

24th ID/13th FA Operation Desert Storm
United States Army

A2c Ronald Keith Carpenter

Strategic air command
United States Air Force
MSgt Gary Allen Carpenter

Cuban Missile Crisis - 1st Gulf War
United States Air Force
Major David Warden Carpenter

Vietnam
United States Air Force
Sgt Michael J. Evans

824th Civil Engineering Squadron - Vietnam War - PACAF
United States Air Force
SSgt Steven Friley

27th Special Operations Wing/AFSOC Iraq-Afganistan
United States Air Force
TSgt Monty Mack Grimes

2750th USAF Hospital - Korean War - Fort Sam Houston, TX Gunter AFB, Alabama
United States Air Force
Sgt Raleigh A. Hampson

Korean War - McClellan AFB
United States Air Force
A1C Jerry N. Linger

376th Bomb Wing, 8AF (1959-1965)
United States Air Force
A3c Donald E McAvoy

1255th Air Base Squ. Air force Korea
United States Air Force
SSgt John `Jack` McIntosh

14th Communications Squadron - Korean War
United States Air Force
Sgt James Pryor

377 Security Police Squadron Vietnam
United States Air Force
SGT Dennis D. Spencer

Vietnam - 4600th Supply Squadron
United States Air Force
E-7 Derek Thompson

LRS/LGRF
United States Air Force
SGT James Allan Wedgewood Sr.

58th Combat Support Squadron, TAC
United States Air Force

Y3C Marie Youst Graham

WWII USCG womens reserve SPARS
United States Coast Guard
AD2 Dominic Ludovici

Korean War era
United States Coast Guard


---
---
---
Chester is proud to honor our men and women
who are or have served this country through our banner program.

FRIENDS, FAMILY MEMBERS, AND NEIGHBORS
SERVING PRESENT AND PAST
IN TIME OF PEACE AND IN TIME OF WAR.
THIS IS OUR TRIBUTE TO YOU


---
---
---
---

How can you get involved?
It's Simple
Just Click the Chester Banner Application above to get started.


---
---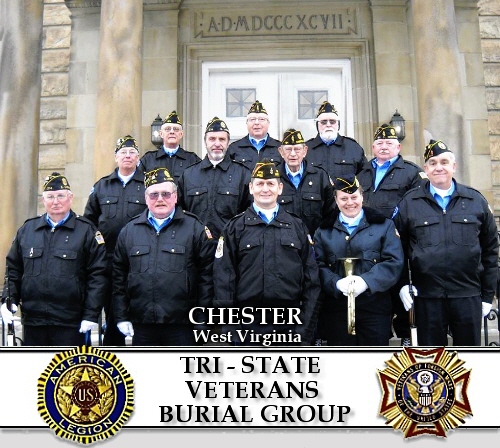 ---
Technical Banner Questions
Contact
Harry Munson
Click to email Program Development
---
---
---
Services provided
by



HTM Designs
---
---
---
---

George A. Allison

WWII
United States Navy
MM2 John F. Ash

Brown Water Navy - Vietnam
United States Navy
S1c Raymond E. Brewer

USS Duffy - WWII - South Pacific
United States Navy
S1c Lurial Blaine Dotson

USS Decker (DE-47) - WWII
United States Navy
GM2C William R Fields

Amphibious WWII
United States Navy
E2 Dalton Andrew Frye

Damneck Training Center
United States Navy
AOM2c Charles Graham

WWII USS Barnes CAS unit 2
United States Navy
S1c James Edgar Grimes

World War II
United States Navy
YN3 Everett Eugene Hart

USS Randolph CVS-15 Comcardiv-16 onbd
United States Navy
YN3 Curtis Havens

USS John S McCain (DDG-36) Navigation Division - Vietnam
United States Navy
S2C Leland B. Huff

USS Croatan (CVE-25) - WWII - Atlantic Theater
United States Navy
MM3 Donzel A. Lamp

USS Allen M Sumner (DD-692) - Vietnam
United States Navy
F2c William A. Lewis

WW11 Fireman 2/c SV6 USNR
United States Navy
SA Kenneth Logston

Co 754 - WWII
United States Navy
S1c Jack McDevitt

WWII - Pacific Theater - Philippines
United States Navy
YN2 Robert J Milby

COMNAVNAW (staff) WWII
United States Navy
EM1 William E. Moon

WWII - Pacific Theater
United States Navy
S2C Carl N. Mumford

USS Bon Homme Richard WWII ERA
United States Navy
AAM3 Edward L. Murray

World War II Era
United States Navy
ASM3 David L. Myers

USS America (CV-66) - Vietnam
United States Navy
S1c Harry Oll Newlun

111th Seabees - WWII era
United States Navy
ADE3 James R. Norris

USS Intrepid (CVA-11) - Korean War (1952-1956)
United States Navy
MM1 William James Pearson

USS Bennington (CV-20) - WWII
United States Navy
MM3c Charles Myers Porter

WW2 Construction Battalion
United States Navy
MM3 Richard A. Rossy

Seabees - WWII - Philippines
United States Navy
S1c Curtis Sayre

USS Suwannee (CVE-27) - WWII - Philippines
United States Navy
S3c William S. Shroades

USS Sarasota (AP-204) WWII - Pacific Theater
United States Navy
BM3 Larry J. Smith

USS Bon Homme Richard - Vietnam
United States Navy
MaM 2c Adolph Frank Smusz

USNTS HQ - Pearl Harbor - WWII - Pacific Theater
United States Navy
HM3 Justin S. Staley

3rd MLG 1-31 MEU
United States Navy
DT3 Mary Jennings Thorn

1984-1989
United States Navy
AN Kenneth C. Unger

Patrol Squadron 31 (VP-31)
United States Navy

SGT Elijah Waldo Adkins

VMF 212 & 215 (2nd Marine Div) - Korean War
United States Marine Corps
Cpl Anthony J. Bernardi

Korean War - 5th HCRRD - Arlington, VA
United States Marine Corps
Sgt Holdridge `Ted` Brightwell

Korean War - 5th MCRRD
United States Marine Corps
Cpl Lawrence C. Cline

5th Marine Corps
United States Marine Corps
Cpl Michael P. Cohan

2nd Battalion, 6th Marines
United States Marine Corps
Cpl E4 David Lee Dugan

Co A, HQMC, HH, Arlington,VA - Vietnam Era
United States Marine Corps
Cpl James Edward Evans

BatteryB 1st Battalion 13th Marines 3rd Marine Division - Vietnam War
United States Marine Corps
PFC Charles W Hutton

WWII
United States Marine Corps
Cpl Robert C. Logan

MT CO Serv MCB Camp Lejeune NC
United States Marine Corps
SGT Bruce Leland Lowers

Iwo Jima / Bouganville - WWII
United States Marine Corps
Sgt Kenneth Lucas

Korean Conflict
United States Marine Corps
PFC Frank Curtis Manypenny

1st Recon Battalion, 1st Marine Division - Vietnam
United States Marine Corps
PFC James R. McGurren

WWII Rifleman 746 1942-1945 rifle company truck driver for the military
United States Marine Corps
E4 David D Spencer

Marine Corps Security Force Battalion - Armorer
United States Marine Corps
Cpl Jack Lee Sprout

Barracks Guard, Mortarman - Naval Ammunition Depot - Korean War Era
United States Marine Corps
LCpl Gregory L. VanDorn

Co A 1st BN 3rd Marine Division - Vietnam
United States Marine Corps
PFC Burton G. Ward

South Pacific Area - WWII
United States Marine Corps