Pennsylvania
Arnold
******
Baldwin Borough
******
Baldwin Township
******
Belle Vernon
******
Bethel Park
******
Brentwood
******
Bridgeville
******
City of Butler
******
Carnegie
******
Canonsburg
******
Castle Shannon
******
Chicora
******
Chippewa
******
Crafton Borough
******
Dayton
******
Donora
******
Dormont
******
Dravosburg
******
Dunbar
******
East Brady
******
East Pittsburgh
******
East Butler
******
Elizabeth Area
******
Emlenton
******
Evans City
******
Fayette City
******
Finleyville
******
Foxburg
******
Glassport
******
Green Tree
******
Heidelberg
******
Homestead
******
Ingram Borough
******
Jefferson Hills
******
Kennedy Township
******
Liberty Borough
******
Lower Burrell
******
Masontown
******
McKeesport
******
Monessen
******
Monongahela
******
Mt. Lebanon
******
Munhall
******
New Eagle
******
New Kensington
******
Newell
******
North Belle Vernon
******
North Braddock
******
Oakdale
******
Parker
******
Pleasant Hills
******
Plum Borough
******
Redbank Valley
******
Rimersburg
******
Ross Township
******
Rural Valley
******
Scott Township
******
Sewickley
******
Sligo
******
South Park
******
Springboro
******
St. Petersburg
******
Union Township
******
Washington Township
******
West Homestead
******
West Mifflin
******
Whitaker
******
Whitehall
******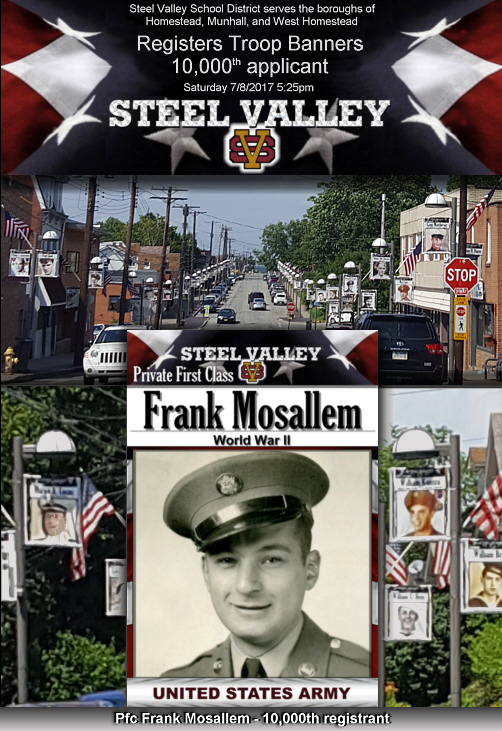 ---
---
---
---
---
---
---
---
---
---
---
---

The Military Banner Tribute Program salutes our brave men and women honorably
discharged who serve, or have served in the military by displaying military
banners in the community between Memorial Day and Veterans Day.
****
These banners represent a source of pride not only in our service men and women,
but for the community as a whole. They honor the men and women of the
local community who have served their country honorably.
****
The Military Banner Tribute Program does not accept sponsor advertising
on its Tribute Banners but only the logo of the non-profit sponsoring
group and the municipality in which it represents.
****

---
---
---
---
---
---
Military banner for Peter J. Bickford of Monongahela on display
at the national cemetery at Strijen in the Netherlands.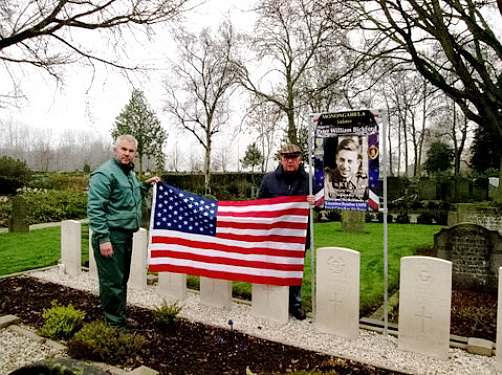 Anton de Man, who is in charge of the recognition of Bickford and his crewmates who were killed 9/16/44 when their Lancaster bomber crashed near Strijen during World War II, is shown at the right. The man on the left is the cemetery caretaker.

The U.S. Flag they are displaying was donated to the cause by Monongahela City Council and will be displayed permanently next to the banner at the cemetery.
***
---
---
---
America Honors her Heroes and Supports her Veterans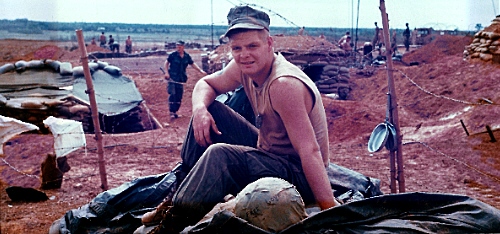 The Military Banner Tribute Program Structure
The Military Banner Tribute Program is self-supporting.

Banners and Brackets are paid for by the Families.

Applications, Pictures, Checks are accepted by the Town/Sponsor.

The information is Uploaded through the admin panel for that community.

Banner/Bracket Building Parties are held by the Sponsoring Group.

Photo Restoration, Website Development, Hosting, Support and website
indexing provided by the Military Banner Tribute Program.

The Municipality hangs the Banners before Memorial Day
and removes them after Veterans Day

The websites listing the banners stay active all year long at no charge.

The Military Organization can list their calendar of events
and activities on the site as they choose.



If your Legion, VFW, AMVETS, Non-Profit or Community
would like to join the Military Banner Tribute Program
and would be able to be active providing the support as listed,
Please click here for additional information.


---
---
---
---
---
How can you get your community involved?
It's simple.
Click here for program information/development.

---
---
---
---
Services provided
by



HTM Designs
---
---
---
---
Alabama
Addison
******
Arley
******
Double Springs
******
City of Good Hope
******
Maryland
Mardela Springs
******
New Jersey
Toms River
******
New York
Berlin
******
Grafton
******
New Lebanon
******
Petersburgh
******
Stephentown
******
North Carolina
Yadkinville
******
Ohio
Berlin Center
******
Blanchester
******
Fayetteville
******
Greenfield
******
Manchester
******
Owensville
******
Peebles
******
Sardinia
******
Seaman
******
West Liberty
******
West Union
******
Winchester
******
Oklahoma
Guymon
******
West Virginia
Chester
******
Weirton
******

***

***

***

***

***

***

***