---
Videos showing our
Banner Towns
---
Weirton Finds Another Way
to Honor Vets
By Sarafina Brooks
WTOV NBC 9 FOX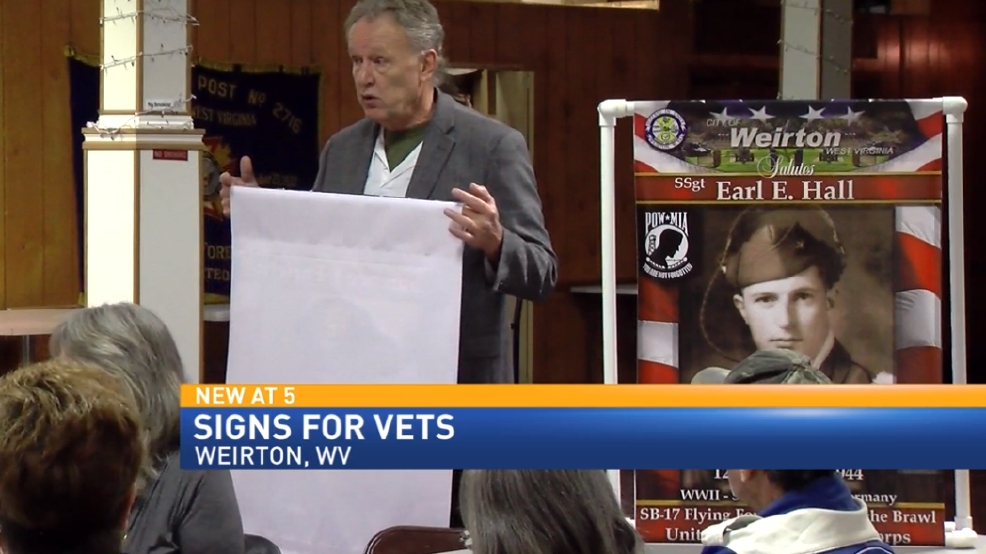 ***
Veterans Day in Monongahela PA
November 11, 2015
***
Blanchester's Citizen of the Year 2015
Susan Jacobs
***
Banners on display in Monongahela
& New Eagle, PA - November 2015
***
Military Banners in Donora, PA
November 2015
***
Driving through Blanchester Ohio
October 2015
***
The Village of Blanchester
on WKRC in Cincinnati
Memorial Day 2015
***
Castle Shannon's Military Banners
***
Military Banner Bracket Building at the American Legion Post 760 in Bethel Park, PA
***
TroopBanners Donates
the First 21 Banners
to OTA Memorial Day 2011
***


provide Veterans a place
to turn during their transition following
their service in the military.
***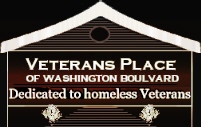 Veterans Place is a 501(c)(3) dedicated to ending homelessness among Veterans
in the Pittsburgh region.
***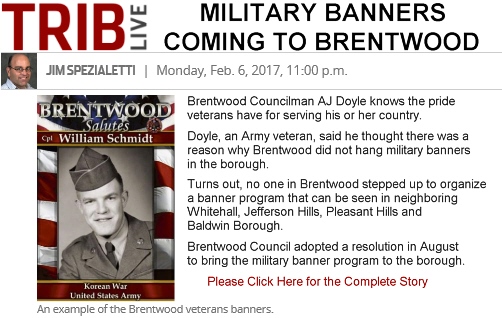 ---
---

Press play

to hear Susan Jacob's
Blanchester Ohio Troop Banner Tribute Interview
---
---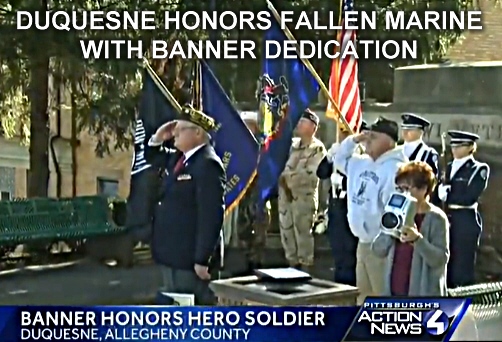 ---
---

City of Pittsburgh Introduces Street Banner Program to Honor War Veterans
Please click here for the complete announcement
---
---
How can you get your community involved?
It's simple.

Click Here for a Sample Military Banner Application

---
---
---
---
America Honors her Heroes and
Supports her Veterans.
---
---
---
---
For additional program information
Contact:
Harry Munson
Click to email Program Development

---
---
---
---
Services provided
by



HTM Designs
---
---
---
---
---
Articles written about our
Banner Towns
---
City of Pittsburgh Introduces
Street Banner Program
to Honor War Veterans
***
Pittsburgh City Council to Vote
on Banners Displaying Veterans
***
Arnold Brothers Honored for Service
***
Military banner program aims
for more tributes in Plum in 2016
***
Steel Valley Veteran
Banner Initiative
***
Dunbar American Legion Post 146
honors veterans
***
Monongahela, New Eagle
honor veterans
with military banners
***
More Mon Valley communities
add banners honoring veterans
***
Bridgeville parking authority
gives to veterans group
***
Belle Vernon hangs banners
to salute veterans
***
Utility Companies Change Stance,
Will Allow Banners
To Honor Fallen Heroes
***
Evans City pays tribute
to its veterans
***
Pleasant Hills
to hang military banners
***
Jefferson Hills
to join military banner campaign
***
Elizabeth Township joins neighbors
in military banner program
***
Canonsburg Salutes Veterans
With Banners
***
Bridgeville community joins
military banner tribute program
***
Bethel Park Honors Veterans
With Banner Program
***
Donora Honors Troops
by Implementing
Military Banner Program
***
Banners Honoring Veterans
Dedicated in Castle Shannon
***